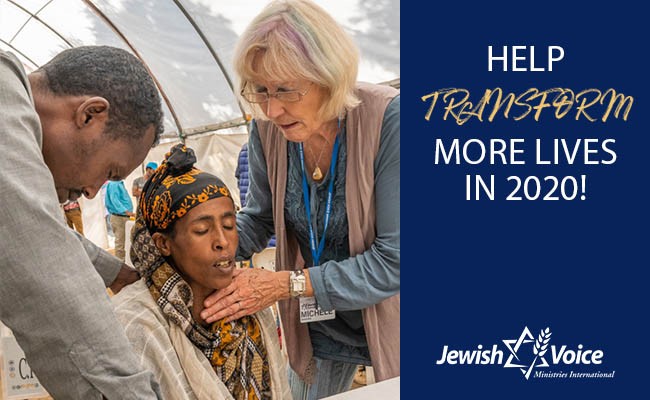 Over the past 35 years, God has given me the opportunity to travel from one end of the globe to the other — to country after country, proclaiming the name of Yeshua (Jesus) to the Jewish people and their neighbors.
And one thing I've learned in all my travels is … it's critical to be prepared: whether it's logistics and itineraries, what to pack or even spiritual preparation.
Even our Jewish Voice Medical Outreach volunteers spend a great deal of time praying and fasting before their trip. Most also tell me they reach out to friends and family members, requesting prayer coverage for them while they're traveling and ministering.
It's in this same spirit of preparation that I'm writing to you today …
I believe this new year represents one of our most important years of ministry in Jewish Voice history. God is opening more doors to bless Israel — and her people, no matter where they dwell around the world.
And most important, to share the Good News of Jesus as Messiah!
I'm so grateful for your ongoing faithful support. Your generosity — and love for Israel and her people — means so much. But as we launch a new year of critical ministry in Israel and around the world, I want to know that you're standing with us.
Your generosity will be put to work immediately to support, provide care and transform the lives of Jewish people in 5 different ways:
1. Sharing the Gospel of Jesus, the Messiah
The heartbeat behind everything we do at Jewish Voice is the Gospel. Because it's the "power of God that brings salvation to everyone who believes: first to the Jew, then to the Gentile" (Romans 1:16 NIV).
We do this in many ways — like through our Medical Outreaches in Africa and supporting Holocaust survivors in Israel. But we also do it through our special Hear O' Israel! Festivals of Jewish Music & Dance, like our recent Festival in Poland at the end of this year.
And our Jewish Voice humanitarian Outreaches are especially important, as Jesus is shared by our team members who pray for and bear witness to everyone who wishes to hear.
But your support makes it all possible!
2. Ministering to the "Lost Tribes of Israel"
As I've shared before, we have proof that communities of Jewish descendants live in remote areas of the world — in Ethiopia, Zimbabwe and other places around the globe. Many of these groups have suffered terrible isolation and poverty. And they've had nowhere to turn for help.
That's why we're committed to providing physical and spiritual care to these groups of scattered Jewish people. Our Jewish Voice Medical Outreaches are one of our most effective tools — bringing clean water and medical, dental and eye care to these suffering Jewish people.
All of these are incredibly practical expressions of God's love — and many times, they provide the opportunity to share about Jesus.
Your support fuels all these life-saving, life-changing efforts!
3. Critical care for Holocaust survivors
Your support also helps Holocaust survivors in Israel, many of whom have no living family and little money for even critical needs like major dental work — which isn't part of Israel's national medical coverage.
Through your gifts, you help provide for these survivors in fulfillment of our mandate: "To the Jew first and also to the Nations."
Your renewal gift will provide resources to improve their quality of life and outlook while they're still alive — and reach them with the Good News before it's too late!
4. Messianic partnerships and congregations
You may not realize this, but all of our efforts — whether it's a Medical Outreach, our Festival or some other event — are never one-time events.
Rather, we believe God has called us to stay in order to plant, support and grow Messianic congregations throughout the places where we minister.
Linking arms with other ministry partners, we help cultivate each seed of faith sown so that it will eventually bear good, strong, vibrant fruit … especially in areas where there's little or no knowledge of the Gospel. Both in Israel and around the world.
This is a massive undertaking. And one we believe has the most potential for building God's Kingdom this year.
But it simply isn't possible without your partnership!
5. Teaching the Jewish roots of Christianity
God called Abraham and promised that his descendants would be God's Chosen People and a blessing to all the nations of the world. He then fulfilled His plans by sending His Son, Jesus, to be born and live as a Jewish man.
But many Christians today don't recognize the extent to which their Christian faith is built on the Jewish faith.
Through your support, you'll serve Christians through teaching about the Jewish roots of their faith, the Church's responsibility to Israel and the Jewish people, and how to share the Good News of the Messiah with Jewish people.
All of these — and so much more — are on the horizon for 2020. The way has never been clearer. The need for Jesus, and the Gospel, has never been greater.
We can move ahead, as God provides through His people!
That's why I'm praying — even as I write this, that God is moving in your heart to give a renewal gift now.
You play an incredibly important role in this work.
Please continue your commitment — both in the early days of the new year AND beyond — to care for Jewish people around the world.
Thank you for your partnership. And God bless you.
To the Jew first, and also to the Nations, 
Jonathan Bernis
Jewish Voice Ministries International President & CE