My first encounter with Ethiopia came in 1999 when one of our board members, Roger West, and a few other ministry leaders traveled to Ethiopia to find out what we could do to help. Roger already had clear direction from the Lord that we needed to do more for the Beta Israel community, and so he hosted us in Ethiopia.
The first Ethiopian I met after arriving in Addis Ababa was Mezmur Zemichael. We immediately hit it off, and when we traveled up to Gondar as a group, I immediately fell in love with his family as well. When I saw the incredible needs in Gondar, I was deeply moved. One thing I noted in particular was that there wasn't a dentist for 300 miles. Imagine a city of over 300,000 people without one dentist. I felt the burden to organize some sort of medical clinic outreach, something we had been doing already in the former Soviet Union throughout the 90s in conjunction with our International Festivals of Jewish Music & Dance.
The following year we returned with a team of just a dozen people who tried to care for some of these needy Beta Israel. We were able to rent a public health center and discovered as soon as we began that the need was so great that people overran us. It was absolutely chaotic. Still, in the midst of the chaos, we were able to help several hundred people with medical care, simple dental care, and medicines. Although the clinic was a very moving experience, I didn't really have a sense of what the next steps were. This clinic in 2000 was the beginning of the work of Jewish Voice in Ethiopia.
Continuing on with our outreaches in Eastern Europe, I was not able to return to Ethiopia until 2004 when I went as a delegate for a TJCII (Toward Jerusalem Council II) committee to host a conference. I was newly married at this time, and my wife Elisangela and I had the opportunity to experience the richness of Ethiopia on the one hand and the intense poverty on the other.
The second night after I arrived, I couldn't sleep. God began to deal with my heart about the severity of the needs in this land. These were our brothers, our Jewish brothers and sisters, and they lived in absolute squalor, isolation, and persecution. I knew God was calling me to do something, and it wasn't just another isolated event.
I didn't sleep all night, and by morning I knew I had to do something for a very specific group in Addis—a Jewish community known as the Kechene community, or the Beta Abraham, the house of Abraham. I shared this experience with one of the members of the team, Gerald Gotzen. Gerald had already been working for more than three decades in Ethiopia and was sort of considered the "white father" for the Jewish community and many Believers. When I shared this with Gerald and another team member, they told me—to my surprise—that the elders of this community were joining us that evening at the hotel for dinner.
When I shared with them at dinner and told them that God was calling me to do something to help on a continual basis, they immediately responded that they needed medical care, that their community was too poor to go to local hospitals, and they were so isolated that they were afraid to go anyway.
That began a chain of events that led us to hold annual medical clinic outreaches and eventually establish a permanent medical facility in the Kechene community. That, then, grew to Gondar and other regions of Ethiopia.
Today, we hold a minimum of three medical clinic outreaches in Ethiopia each year and are now a registered NGO in Ethiopia with a full staff. As a result of these outreaches, we have now assisted in the planting of over 15 Messianic Jewish congregations meeting every week throughout Ethiopia.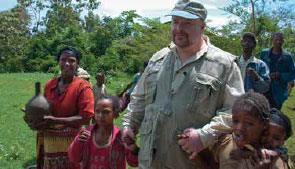 In 2006, JVMI conducted a two-week, two-city medical outreach that served the people of both Addis Ababa and Gondar, Ethiopia. The trip was originally designed to reach out to the Beta Israel and the Beta Abraham congregation and community in Addis Ababa. Jewish Voice did not approach the Beta Israel group across town because they had never allowed outsiders in before. Many of the Beta Israel had left everything they owned to come to Addis to be ready for mass, Israel-sponsored aliyah (immigration to Israel).
For 36 hours in 1991, Operation Solomon brought thousands of desperate Ethiopian Jews to Israel in a continuous stream of round-the-clock mass airlifts. Israel's efforts toward Ethiopian aliyah slowed after that dramatic operation, but they did continue. More and more members of the Beta Israel left everything they owned and came to Addis Ababa to wait for their opportunity to immigrate to the homeland of their faith. In 2006, most of the people there had been waiting eight years or more. Some had even been left on the tarmac in 1991 as the planes filled beyond capacity with no room for them on board. The Beta Israel waited in deep poverty and deplorable living conditions.
The hopes of the Beta Israel for aliyah depended heavily on protecting their "Jewish" status, and their community was closely watched by Jewish organizations. They did not want to do anything to jeopardize their opportunity to make aliyah, and thus, did not invite outsiders into their community. But their needs were so great that they asked us for help. We were thrilled to add an unplanned satellite clinic right in their synagogue and help hundreds of Ethiopian Jewish people with medical, dental, and eye needs. I remember being humbled and honored to be invited to speak before this ancient Jewish congregation that had given up all for their dream of returning to Israel.