TV SHOW
Here's what's coming up on the Jewish Voice television show for January through March 2021.   
Jentezen Franklin talks about his connection with Israel, finding hope in every circumstance and how the pressure of difficult times can produce "acres of diamonds" in our lives if we let them.
Bishop Kenneth Ulmer joins Jonathan for a powerful discussion about racism and anti-Semitism and encourages us that walls really can fall and we don't have to be divided.
Troy Anderson and Colonel David Giammona join Jonathan to help you become the warrior God meant you to be. They discuss battle-tested strategies to prepare for the End Times from their new collaborative book, A Military Guide to the Apocolypse.
Mike Lindell, the My Pillow guy, shares his testimony of going from crack addict to CEO and explains why supporting Israel is so important to him.
Chuck Pierce talks with Jonathan about "rekindling the altar fire" and making a place for God's presence to allow His power to fall.
Also, Jonathan and Ezra team up to begin a new series about the biblical covenants, revealing how they build upon one another, and present a fascinating show about why standing with Israel matters. They'll also share inspirational discussions about the Jewish holidays of Purim and Passover, and you'll enjoy a Passover demonstration that will help you host your own Passover Seder.
Go to www.jewishvoice.org/tvguide to find out where you can watch "Jewish Voice with Jonathan Bernis" in your area.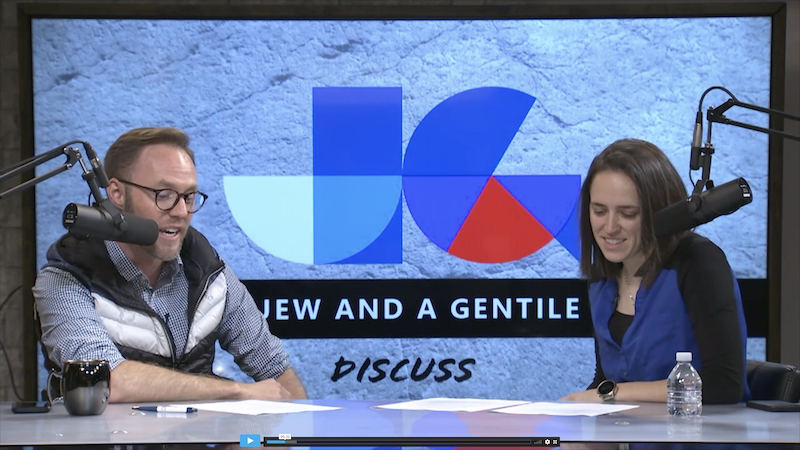 PODCAST
Ezra and Carly interview Rabbi Seth Klayman to talk about Messianic congregations in America. Seth is the leader of Sha'arei Shalom Messianic Synagogue in North Carolina and was part of the translation team that created the Tree of Life Version of the Bible. Carly and Ezra continue the discussion with Rabbi Matt Rosenberg, senior pastor of Restoration Fellowship in Seattle, Washington, and a Jewish Voice board member.
Jonathan Bernis pays a visit to share his personal testimony of coming to faith in Jesus as a young Jewish man, and you'll also get to hear Ezra's faith story.
Over the next few months, Carly and Ezra will engage in an open conversation to help Christians who've learned they have a Jewish background. They'll tackle whether anti-Semitism is real today, dive into the matter of the "Lost Tribes of Israel," and dig deeper into the topic of aliyah – Jewish immigration to Israel.
Carly and Ezra also discuss the Jewish holidays of Purim and Passover and explain a Jewish perspective of Holy Week. They also have some fun while presenting two more episodes in their Weird Holiday Foods series, explaining the stories behind traditional foods of Purim, Passover and Easter.
You can find "A Jew and A Gentile Discuss" wherever you access your podcast content or go to: www.ajewandagentilediscuss.org for the podcast website, where you can learn more about your hosts and previous episodes.