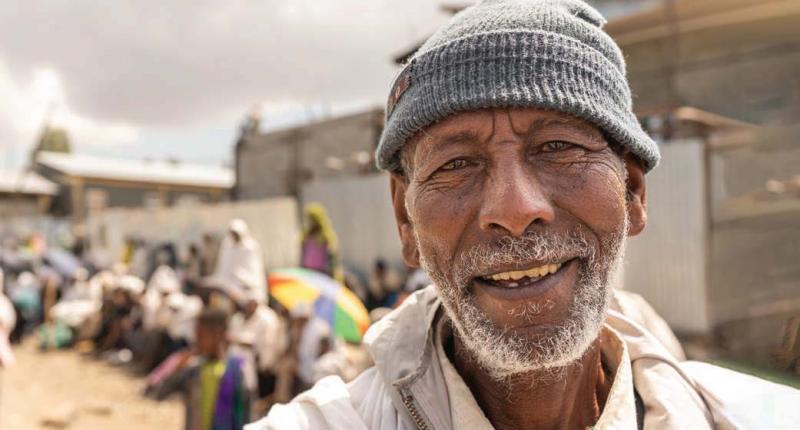 ENEWARI, ETHIOPIA – "We said no Gospel!"
Those were the words shouted at our team as an angry mob forced their way into our Medical Outreach prayer tent this past March. They waved sticks in the air as they yelled and did what they could to disrupt what God was doing.
Just a short time before, an entire group of about 30 members of the Beta Abraham Jewish community had gathered in the prayer tent. The Good News was presented and the whole group prayed to accept Jesus as their Messiah!
"They received it with joy, with tears in their eyes," said Theo Steinhauer, Jewish Voice Spiritual Affairs Manager, who was leading their time together.
And before this, many others had prayed to receive Jesus in just the first two days of the Outreach. A total of nearly 100 – more than all of the Outreaches to Ethiopia that took place in 2019. It was clear to everyone that God was working in mighty ways!
It was also clear from the angry mob and other resistance to the Gospel being shared that this was a spiritual battle.
"He shielded us"
Local authorities were able to get the mob out of the prayer tent.
"The Lord's amazing grace was there. He shielded us," said Theo.
No one was injured or killed – either from this attack or later that night when the mob returned in greater numbers and set fire to the camp compound.
Because of the earlier violence, all staff and volunteers were safe in the clinic area.
After the fire – which destroyed everything – tents, sleeping bags, toilets and showers, a refrigerator, a generator, everyone's personal belongings – it was determined shutting down the Outreach was the best course of action.
Late that night, Ethiopian special forces helped evacuate all of our team members.
Peace not fear
After all they had experienced, when fear, anger and frustration would have been a logical and understandable response, instead the response from our entire team was peace, compassion, prayers and love toward those who had carried out the attacks.
"The feeling of loss was about people who wouldn't get the chance to be ministered to physically and spiritually," says Theo. "They understood that if you're part of sharing the Gospel, persecution will happen."
The local Believers told our staff they were grateful for the honor of suffering on the Lord's behalf. They lost more (personal possessions) than other members of our team, yet their faith was strengthened.
"Their love for the Lord was ignited into a bigger flame and their countenance was filled with joy," Theo says.
Please thank God with us for His protection and for so many coming to faith in Jesus as Messiah!
Your prayers are appreciated for all of the new Believers to be strengthened in their faith. Also for God to be working in the hearts of those who carried out the attacks.
Your financial support can help replace the equipment and supplies that were destroyed so our Outreaches can continue.
Thank you!