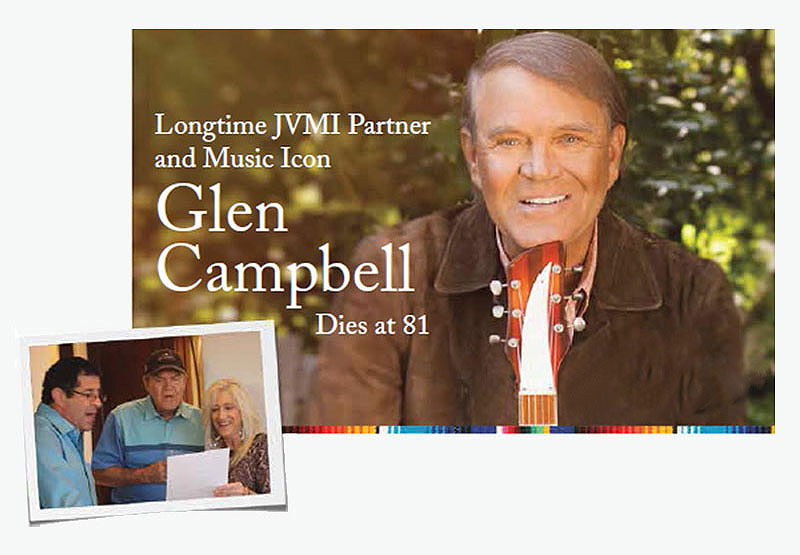 Longtime Jewish Voice Ministries supporter and Country Music Hall of Fame member Glen Campbell died in Nashville on August 8th. He had been struggling through the final stages of Alzheimer's disease. He was originally diagnosed with the disorder in 2011.
The superstar of rock and country music had not performed since his farewell tour in 2012, but his last album, Adiós, was released just weeks before his death. That final effort was recorded after his final tour.
Glen became a performer in 1952 and was a chart-topping, Grammy-winning singer in the 1960s and '70s, considered the ultimate crossover performer between Country and Pop genres. He sold 45 million records and was inducted into the Country Music Hall of Fame in 2005.
His biggest hits included "Wichita Lineman," "By the Time I Get to Phoenix" and "Galveston."
Glen and his wife Kim became involved in the Messianic Jewish movement in the 1990s.
After some highly publicized problems, all-too common side effects of stratospheric stardom, Glen sought help for drug abuse and became a Believer in the 1980s.
"It was the early 1990s when Glen and I saw a teaching about the Festivals of the Lord on Trinity Broadcasting Network," Kim explained. "We were blown away to learn how intricately they pointed to the work of the Messiah in His first and second comings.
"I immediately became a voracious student of the subject and ordered every book I could find written from a Messianic perspective."
The Campbells then took their family to Israel, where they participated in Yeshiva classes. On their return to their home in Phoenix, they enrolled in Fuller Theological Seminary to take a class at the Messianic Jewish Theological Institute.
Since there was no Messianic congregation in Phoenix at the time, they started a teaching foundation called Torah Study Chavurah, bringing in scholars from all over the world to teach the Jewish roots of the Christian faith.
When my wife, Sandie, and I moved to Arizona shortly after that, they invited us to participate. Our families became close friends and when I went to work for Jewish Voice Ministries in 2004, I introduced them to Rabbi Jonathan Bernis, and they became generous supporters of JVMI.
I was honored to officiate at my friend Glen's funeral on August 9th. He will be greatly missed.