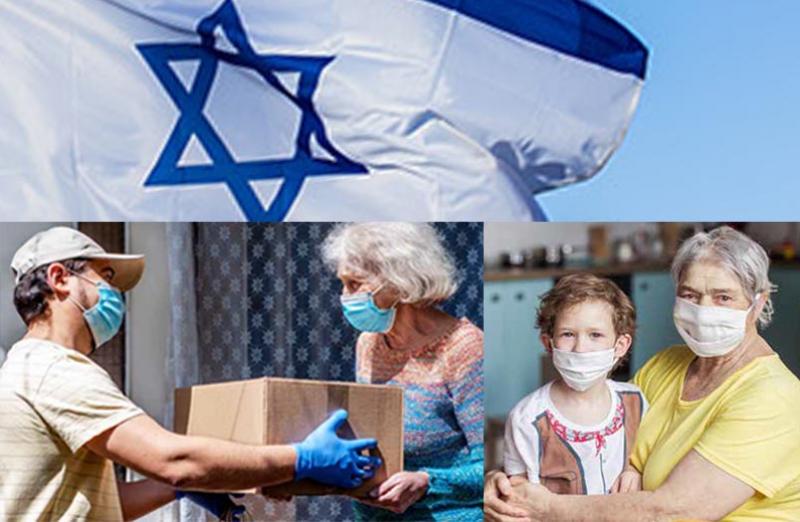 Adonai gives strength to His people. Adonai blesses His people with shalom. (Psalm 29:11).
As the world adjusts to the new normal this global pandemic has forced upon us all, Jewish Voice's mission continues: proclaiming the Gospel to the Jew first, growing the Messianic Jewish community, and engaging the Church concerning Israel and the Jewish people.
For many of us, the coronavirus pandemic and all the changes it has brought to our lives is one of the most difficult experiences we've ever had. But imagine the struggle for those most vulnerable.
For months now, Jewish Voice has been receiving urgent requests for emergency support from our more than 80 partner organizations on the ground in Israel. We are working closely with our partners where there is critical need, especially among the nation's poor, disabled, single parents and the elderly – and many of the approximately 180,000 Holocaust survivors have significant needs and depend on the visits and practical help of our partner organizations.
"I am hard-pressed to recall a time where the people of Israel were in such need of hope as they are now," one of our partners on the ground shares. "Even the many wars Israel has fought cannot match the level of desperation that many families in Israel are experiencing, and it is felt on so many levels – economically, emotionally, spiritually, and physically – as the Coronavirus continues to take its toll on all parts of society here."
Unemployment numbers have swelled, especially among those who live paycheck to paycheck. Many individuals and families in Israel are in desperate need. Thanks to the support of friends like you, working with and through our partners, Jewish Voice has been able to assist many households with grocery packages and grocery vouchers.
One recipient was a single mother, Alma, who worked in the same building as an organization we partner with in Jerusalem. Laid off as a result of COVID-19, she was left with few options to provide for her children. She was so grateful for a grocery voucher, and deeply touched that someone cared enough to help her family in their hour of tremendous need. "No one else has reached out to help," she said, "even though they know the situation we are in."
Your support of JVMI is helping to bring much more than groceries. You're offering hope to Israel, calling to her, "O Israel, wait for Adonai. For with Adonai there is lovingkindness, and with Him is full redemption" (Psalm 130:7). This lasting hope is only found in the living God.
Several holidays and anniversaries were marked this year during the pandemic lockdown. Passover, Yom HaShoah (Holocaust Remembrance Day) in remembrance of the 6 million Jews who perished in the Holocaust, Yom HaZikaron (Memorial Day) remembering the 23,816 fallen soldiers and 4,166 terror victims in the modern State of Israel, and Yom Ha'atzmaut (Independence Day) the celebration of Israel's 72nd year of Independence Day were all observed under a shroud of restrictions.
"This year, there was a somberness to all these days of remembrance," said another of our partners. "God has brought us all to a halt, and given us precious time to reassess our lives, to reset our priorities and to know that He is God. It is also a time to remember all that God has done in the past. One day this pandemic will also pass into our collective memory and become part of our history, but until then, we can choose to make the most of this opportunity to pause and draw nearer to our God and to exalt Him among the nations."
Like much of the rest of the world, concern over a second wave of the novel coronavirus has the Israeli government monitoring things carefully – perhaps necessitating new restrictions and the return of others that had started to ease. Prime Minister Netanyahu warned that the government will have to reimpose the lockdown if other preventive measures aren't working and numbers continue to rise.
In the midst of all this, we are most grateful for your partnership with us. We are all feeling the impact of this global pandemic and the stranglehold it has on our economies and livelihoods. For many in Israel, the situation is dire. In your compassion, in your praying and giving, you're ministering care in the name of Yeshua, who said, "I tell you, whatever you did to one of the least of these My brethren, you did it to Me" (Matthew 25:40).
We're also grateful to know God is in control. None of this takes Him by surprise. We pray for strength and peace and that the Lord will supply our need – and we pray the same for you, your family, friends, neighbors – and an extra measure for Israel and the Jewish people.