When Mikhail Gorbachev came to power in the Soviet Union in 1985, he implemented "Perestroika" (restructuring) and "Glasnost" (openness). In 1985, Jonathan Bernis was in his second year as Messianic Rabbi of Congregation Shema Yisrael in Rochester, New York. He didn't know then that an enormous window of opportunity was opening that would change the course of his life. He didn't know that within a matter of years, "Gorbachev's revolutionary program [would sweep] communist governments throughout Eastern Europe from power and [bring] an end to the Cold War (1945-91)."1
While the Iron Curtain was weakening, the reforms of Perestroika opened up new opportunities for the distribution of Bibles and sharing the Gospel in the USSR. The changes also opened a floodgate for the emigration of Soviet Jews to Israel. After years of struggling for freedom, unprecedented numbers were being allowed to leave the Soviet Union.
In a series of articles published in Shema Yisrael's monthly newsletter between July 1990 and February 1991, Jonathan Bernis described his first venture into this historic ministry opportunity—a trip to Leningrad and Moscow—and the beginnings of what would become a radically different future for him. In the July issue, he begins: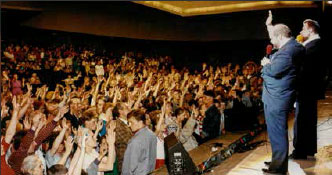 In May 1989, while touring Israel, I felt the Holy Spirit directing me to take advantage of this incredible opportunity and lead a ministry team into the Soviet Union. Under the auspices of the MJAA (Messianic Jewish Alliance of America), this calling became a reality last month. I had the privilege of leading a small ministry team (myself and four others) into Russia for six days. Armed with several suitcases filled with Russian/Hebrew Bibles and hundreds of pieces of Messianic literature, we ventured behind the "Iron Curtain," believing that the Lord would sovereignly lead and direct us. Although the trip lasted only six days, the experience had a profound and lasting impact on all of us.
The team had all heard stories of Bibles being confiscated, and they were concerned about what would happen to the bags of Bibles and materials in their luggage. They were surprised and delighted to make it through customs without any search of their bags. 
They went on this adventure not exactly knowing what lay ahead for them. Their first destination was Leningrad (now St. Petersburg). The team of five had prayed for divine appointments. "Although we had some contacts to follow-up, we were basically relying on God to connect us with the right people," Jonathan remembers.
Among the handful of contacts on the team's short list were the families of two Messianic Believers from the States. At each meeting with these precious families, the ambassadors for Messiah arrived to find relatives and guests filling the tiny apartments. Everyone was open and interested as the team shared their beliefs as Messianic Jews. At one home, 10- 15 people sat in rapt silence as Jonathan shared his testimony. "For the 20 or so minutes that I shared, you could have heard a pin drop—everyone listened intently to each word I said, and I could feel them just soaking it in." The team was overwhelmed by the sacrificial hospitality lavished upon them by these families who had so little by American standards. They left Bibles and literature with each group so they could continue to discover Yeshua, the Jewish Messiah.
With the Leningrad leg of their journey complete, they had distributed all of their allotted Bibles and literature. Next stop: Moscow.
Once at their Moscow hotel, Jonathan particularly noticed "a number of stern looking Russian men in trench coats and suits who looked exactly like the movie image we have of KGB agents." To his surprise, he later learned from various cab drivers that their hotel was "in fact, crawling with KGB agents!"
Upon seeing the Kremlin and Red Square, Jonathan wrote:
The massive, stark architecture and almost endless line of loudspeakers hanging from the high, imposing walls of the Square and Lenin's tomb seemed to typify the Russian communist mindset and mentality: mass propaganda, faceless masses contributing their part to the advancement of 'the State,' and no individualism or encouragement to be individualistic or different. It was a sad and almost eerie atmosphere, and it became clearer to me just why most of the Russians I had met during the trip were unhappy and discouraged. I was told more than once that we were easy to spot as foreigners simply because we were smiling.
One of the objectives of the team for their visit to Moscow was to get literature about Israel and Messianic congregations there into the hands of Russian Jews seeking to move to Israel. They'd heard that because there were no diplomatic relations between Israel and Russia since the Six-Day War, the Dutch Consulate (an office serving different functions than an embassy) was handling the application process on behalf of Israel. After about an hour's cab ride searching for the address, they arrived at the Consulate only to learn that the Dutch Embassy was handling the Israeli immigrations, and that building was several miles away. First, they were frustrated. Then, they experienced a miracle.
A man standing in front of the compound offered to help them, and upon learning their destination, offered to guide them there in the cab because he was going there himself. Jonathan describes what happened next:
During the half-hour ride, we discovered that he was the head of the Consular section of the Embassy and the person directly overseeing Israeli affairs! As we arrived, he invited us into the Embassy for coffee. We quickly accepted and were led through a line of hundreds of people waiting to get in, and were ushered by guards through the locked gates of the compound like VIPs. We all knew without question that this was God's doing.
Sitting in his office, the Consular explained the current emigration situation to Jonathan and his companions:
He told us how overwhelmed they were with Russian Jews waiting to go to Israel. The Russian government had only allowed five Israelis to come to help process visas, and there was a huge backlog. He showed us over 49,000 applications from between January and April, with 15,000-plus expected in May.
The ministry team also learned how difficult leaving Russia was for these people.
Visas are only good for 30 days, so that is all the notice they have to pick up and leave. Airline tickets are very expensive and hard to get. Worst of all, they are only allowed to take $50 and their clothing out of the country. Even engagement rings must stay. In addition, all those leaving for Israel lose their Russian passports and citizenship immediately upon exiting. Still, they thronged to move to Israel.
After spending considerable time with the Dutch Consular, the group felt fully briefed on the situation. As they went through the gates to leave, they distributed Bibles and Messianic literature. "We were literally swarmed by the curious crowd, handing out all our materials in a matter of minutes." After reading the explanation of Messianic Judaism and belief in Yeshua as the Messiah, many of the people begged the team for more. Others asked if they could come to their hotel to talk with them more. "It was an absolutely overwhelming experience for us to see so many Jewish people open to the Gospel," Jonathan recalled. "We spent a couple of hours just talking with people and sharing our faith. We spent the remainder of the day back at our hotel meeting with those that wanted to talk further.
This inspired and adventurous group of Messianic Believers had come to the Soviet Union with a list of five contacts, 300 Bibles, and 400 pieces of Messianic literature. In six days, they'd distributed all of it. Nine months after the trip, Jonathan Bernis recalled, "We left for home the following morning, exhausted but thankful to God for the privilege of being used. God had shown Himself faithful, and somehow I knew that I would be returning.
I would be returning." In the coming years, Jonathan would return to Russia many times. God was moving in dramatic ways among the people there as they emerged from under a repressive government and into new freedoms. God called him to uproot his life and move to Russia, establishing and pastoring the Messianic Center of St. Petersburg, Russia from 1993 to 1996.
[1"Perestroika and Glasnost," History.com, http://www.history.com/topics/cold-war/perestroika-and-glasnost]