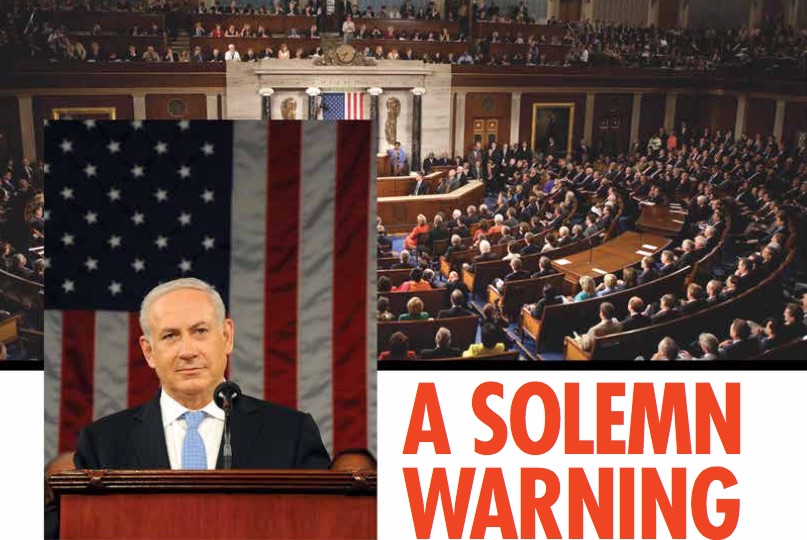 On March 3, 2015, Prime Minister Benjamin Netanyahu addressed a rare joint session of the U.S. Congress. He sounded a solemn warning that day about the intentions of Iran that has, sadly, gone largely unheeded. In recent days, Iran has repeatedly flouted the terms of the agreement through continuing their uranium enrichment, buying and selling prohibited weapons, and testing long-range missiles capable of carrying nuclear warheads to strike Israel.
Mr. Netanyahu's remarks were direct and blunt:
Thank you, America. Thank you for everything you've done for Israel. My friends, I've come here today because, as prime minister of Israel, I feel a profound obligation to speak to you about an issue that could well threaten the survival of my country and the future of my people: Iran's quest for nuclear weapons.
We're an ancient people. In our nearly 4,000 years of history, many have tried repeatedly to destroy the Jewish people. Tomorrow night, on the Jewish holiday of Purim, we'll read the Book of Esther. We'll read of a powerful Persian viceroy named Haman, who plotted to destroy the Jewish people some 2,500 years ago. But a courageous Jewish woman, Queen Esther, exposed the plot and gave for the Jewish people the right to defend themselves against their enemies. The plot was foiled. Our people were saved.
Today the Jewish people face another attempt by yet another Persian potentate to destroy us. Iran's Supreme Leader Ayatollah Khamenei spews the oldest hatred, the oldest hatred of anti-Semitism with the newest technology. He tweets that Israel must be annihilated—he tweets. You know, in Iran, there isn't exactly free Internet. But he tweets in English that Israel must be destroyed.
For those who believe that Iran threatens the Jewish state, but not the Jewish people, listen to Hassan Nasrallah, the leader of Hezbollah, Iran's chief terrorist proxy. He said: "If all the Jews gather in Israel, it will save us the trouble of chasing them down around the world."
But Iran's regime is not merely a Jewish problem, any more than the Nazi regime was merely a Jewish problem. The 6 million Jews murdered by the Nazis were but a fraction of the 60 million people killed in World War II. So, too, Iran's regime poses a grave threat, not only to Israel, but also the peace of the entire world. To understand just how dangerous Iran would be with nuclear weapons, we must fully understand the nature of the regime.
Iran's goons in Gaza, its lackeys in Lebanon, its revolutionary guards on the Golan Heights are clutching Israel with three tentacles of terror. Backed by Iran, Assad is slaughtering Syrians. Backed by Iran, Shiite militias are rampaging through Iraq. Backed by Iran, Houthis are seizing control of Yemen, threatening the strategic straits at the mouth of the Red Sea. Along with the Straits of Hormuz, that would give Iran a second choke-point on the world's oil supply.
Iran's regime is as radical as ever, its cries of "Death to America," that same America that it calls the "Great Satan," as loud as ever. Now, this shouldn't be surprising, because the ideology of Iran's revolutionary regime is deeply rooted in militant Islam, and that's why this regime will always be an enemy of America.
As the tiny nation of Israel stands surrounded by enemies in a volatile region, we see the growing importance of standing with Israel and keeping a watch on activities in the Middle East. Here at Jewish Voice, we consider it an honor to keep you apprised of world events that carry possible prophetic significance. Thank you for standing with Israel in the face of turmoil and continuing to "pray for the peace of Jerusalem" (Psalm 122:6).