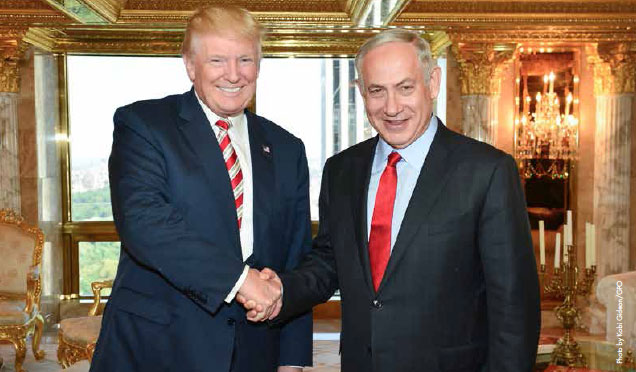 Even after a lengthy campaign season, President-elect Donald Trump remained something of a wild card in the minds of many people.
But at the time of this writing, America's 45th president does appear to be getting off to a good start in at least one regard. And that should be encouraging to those of us who care deeply about U.S.-Israel relations.
Here's why I say that:
The Times of Israel reported that after the U.S. election in November, Donald Trump had already spoken with Israeli Prime Minister Benjamin Netanyahu.
In a statement to the news media, the prime minister's office said Trump and Netanyahu "have known each other for many years" and had "a warm, cordial conversation" by phone. During the call, Trump invited the prime minister for meetings in the United States at the "first opportunity.
Regional issues were also apparently raised during the phone conversation, but the statement did not elaborate further
In remarks released to the media after Trump proclaimed victory, Netanyahu called him "a true friend of the State of Israel" and promised to work with the new president "to advance security, stability, and peace in our region.
It's encouraging that our new president of the United States made it an early priority—even before he officially took office—to work on improving the strained relations with America's most important ally in the Middle East.
Donald Trump may be off to a good start, but what about the other key influence on U.S.-Israel relations: Congress?
Well, here's more promising news…
The largest and most influential group advocating for stronger U.S.-Israel relations said that it sees the next U.S. Congress as the "most pro-Israel ever"—this according to the Times of Israel.
Following the November elections, the American Israel Public Affairs Committee (AIPAC), which bills itself as a bipartisan group working to strengthen, protect, and promote the U.S.-Israel relationship, issued a statement congratulating Trump and "the elected and reelected senators and representatives who will be part of the most pro-Israel Congress ever…"
AIPAC said it looks forward to "working with them and the new administration to further strengthen the U.S.-Israel relationship."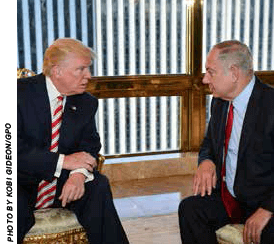 The group took the occasion to also remind Trump of comments he made at the AIPAC's policy conference in March 2016 on the importance of the relationship: "We will send a clear signal that there is no daylight between America and our most reliable ally, the State of Israel."
I mention these developments not because of any allegiance to Donald Trump. Rather, I'm motivated by my firm belief that Israel will benefit from a strong bond with its greatest ally, America—no matter who is in the White House.
Whether you favored Donald Trump or Hillary Clinton in last year's election, our responsibility remains the same as Believers in Yeshua (Jesus) AND supporters of a Jewish state: to pray for and seek productive relations between the two nations and to pray for those in leadership. I hope you'll join me in praying for that in the weeks ahead. Here are some ways to pray:
Strengthened U.S.-Israel ties and productive relations between leaders in each country
World opinion and sympathy toward Israel to grow more favorable and fair, including in the United Nations
Healing to replace the division and strife experienced in so many countries
Building unity, first among the Body of Messiah and also throughout our nations
That we recognize and honor God as having ultimate dominion and authority
World leaders to humble themselves before God
God to draw the leaders of the world to faith in Yeshua
Righteous leaders who fear God and love truth
Leaders to rule with integrity, with God's guidance
See 1 Timothy 2:1-4, Psalm 122:6, Ecclesiastes 3:3, Colossians 3:14, Daniel 4:34, Daniel 2:21, James 4:10, Psalm 46:10, James 4:8, Proverbs 29:2, Exodus 18:21, Psalm 78:72, Proverbs 3:5-6.