"The Lord is good to those whose hope is in him; to the one who seeks him. It is good to wait quietly for the salvation of the Lord"

Lamentations 3:25-26 (NIV)
I pray God's faithful goodness for your life this week, as the above Scripture in Lamentations promises to those whose hope is in Him.
In recent news, it seems to be a love-hate relationship between Israel and Jordan.
Publicly, Jordan is pushing for a two-state solution between Israel and Palestine. However, back-channel conversations imply that Jordan's security and military leaders would rather side with Israel over the Palestinian Authority (PA).
With tensions rising inside Jordan, this is a story you'll want to keep tabs on. Here's what we know...
"FOIL ISRAEL'S PLAN..."
Last week Jordanian Foreign Minister Ayman Safadi warned that Israel's West Bank annexation plan would "kill the two-state solution." This comes amid the appearance of a step-up in coordination between Jordan and the PA to "foil Israel's plan to extend its sovereignty into parts of the West Bank, including the Jordan Valley. This is according to the Jerusalem Post.
In an unexpected visit to the Palestinian capital of Ramallah last week, Safadi is said to have delivered a message from Jordanian King Abdullah to PA President Mahmoud Abbas, emphasizing Jordan's strong opposition to Israel's annexation plan.
Hussein al-Sheikh, a senior Palestinian official, said that the Jordanian minister's visit was "part of a joint effort to confront the Israeli annexation plan and its repercussions on the region."
Meanwhile, in less public conversations, Jordan, which must ultimately be on board with any Israeli-Palestinian agreement on the West Bank, seems to be siding more with Israel.
Israel Hayom, the online news and opinion magazine, quoted a senior Jordanian official last week as saying, "The Palestinian interest is obviously important to us, but what's more acute from our perspective is Jordan's national and security interest. . . . we prefer an [Israel Defense Force] presence west of the kingdom in the Jordan Valley over any other alternative. . . . We have no interest or intention of damaging our security relations with Israel on behalf of the Palestinians," he said.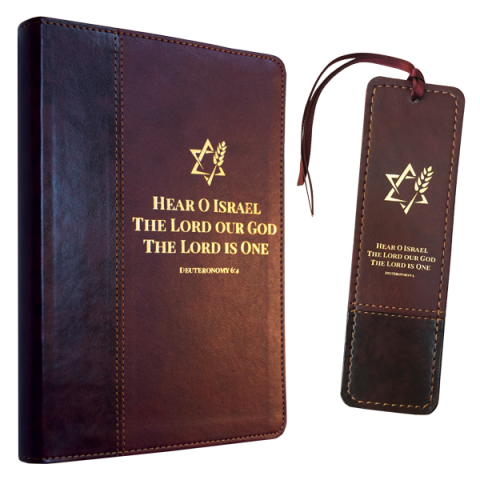 When you give a gift of $30 or more in support of Jewish people in Israel, we'll bless you by sending the Hear O' Israel Journal and Bookmark. Use the handsome journal to record your personal thoughts, Bible study notes, or prayer requests. Each of its 400 lined, gold-edged pages features a Scripture verse. The leather-like cover is dual-tone maroon, debossed with the words of Deuteronomy 6:4 – "Hear O Israel, the Lord our God, the Lord is One." And keep your place in any book with this deluxe, leather-like bookmark. Like the journal, it carries the words of Deuteronomy 6:4 in gold foil. Request one today!
EVAPORATING SUPPORT?
Amid this conversation, the terror organization Hamas got into the act. Senior Hamas official Izzat al-Risheq, in an obvious attempt to flatter the Jordanian leadership, said that Hamas "appreciates Jordan's honorable position . . . in support of the legitimate rights of the Palestinian people. [Israel's goal for the Jordan Valley] constitutes an existential threat to the present and future of Palestine, and a real danger to Jordan."
In an accusation clearly directed at Israel, he continued that Hamas condemns "attempts by some parties to exert pressure and political blackmail against Jordan because of its courageous stance towards this criminal plot."
The unnamed Jordanian official allowed that PA officials are disappointed over the unofficial positions of Arab countries on the matter of Israeli sovereignty. "No one is asking why the Arab League isn't convening, despite the Palestinians' lamentations over Israel's intention to implement the annexation plan," he said.
WELL... WHICH IS IT?
Across the Middle-East, Arab nations are occupied with their own internal problems and security issues. They will probably not risk ruining their relationship with the Trump administration. And, for Jordan especially, their security is paramount.
The Palestinians are angry that the support of long-standing Arab allies — which they feel entitled to — appears to be evaporating as debates over Israeli sovereignty and the future of the West Bank drag on.
Stay tuned.
PLEASE PRAY WITH US...
Join me in praying for:
God to give His people strength and peace in the days ahead.

God's hand of guidance on crucial negotiations between Israel and Jordan that will ultimately impact the lives of millions of Jewish, Palestinian and Arab people there

Safety and health for the people of Israel as they face a surge in COVID-19 infections, which the government lacks the resources to battle

Jewish people to seek salvation in and restoration through the one true Messiah, Jesus