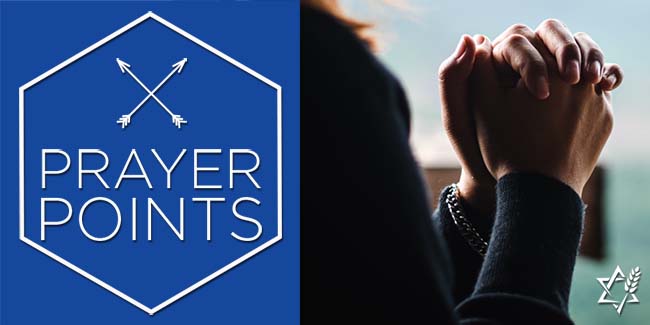 We are full of thanksgiving to God, not just because of a holiday but also because of you. We are so grateful to each of you who earnestly sows prayers into Jewish Voice Ministries International. Some of you tell us how you faithfully pray for us daily. Others recount to us the many years you have covered us in prayer.
We thank all of you who:
Pray through our Prayer Points emails (or read the blog posts) twice each month. We love when you tell us the specific ways you have been praying for us. You read them online or print them off and pray, and some of you even share them with your prayer groups. You are especially faithful to cover every aspect of our Outreaches in prayer.  Thank you.
Watch "Jewish Voice with Jonathan Bernis" and pray for the topics on each program, as well as for Jonathan Bernis, Ezra Benjamin, and our many guests. Some of you let us know you have been watching the program by saying, "I prayed with Rabbi Jonathan today!" Thank you.
Pray regularly at our headquarters. You are our dedicated onsite Prayer Partners. We sense the presence of the Lord in deep ways at our ministry headquarters because of your prayerful presence. Thank you.
Have participated in our online prayer meetings. We have held these from time to time over the last two years and hope to do more in the year to come. We love to join in prayer with you, even when separated by miles and nations. Thank you.
Were part of our Operation 1226 initiative this fall, covering Israel and the Jewish people in thousands of hours of prayer in a week. Also, those of you who are joining us on our ongoing Jewish Voice 24-7 Prayer Watch, praying from home like watchmen on the wall! Thank you.
Pray for us in so many other ways, including by simply responding to the Holy Spirit's prompting. Thank you.
So many of you praying! So very many prayers! We cannot do what we do without you and your prayers. Thank you.
Let's pray:
Lord, thank You for each of our faithful partners who devote themselves to prayer on behalf of Jewish Voice Ministries, being watchful and thankful. Every time we think of them, we lift them up to You, grateful for their partnership in the Gospel through their prayers. Lord, pour out Your blessings in such abundance that they are overwhelmed by your goodness, and their own hearts are filled with gratitude and praise. In Yeshua's name, AMEN.