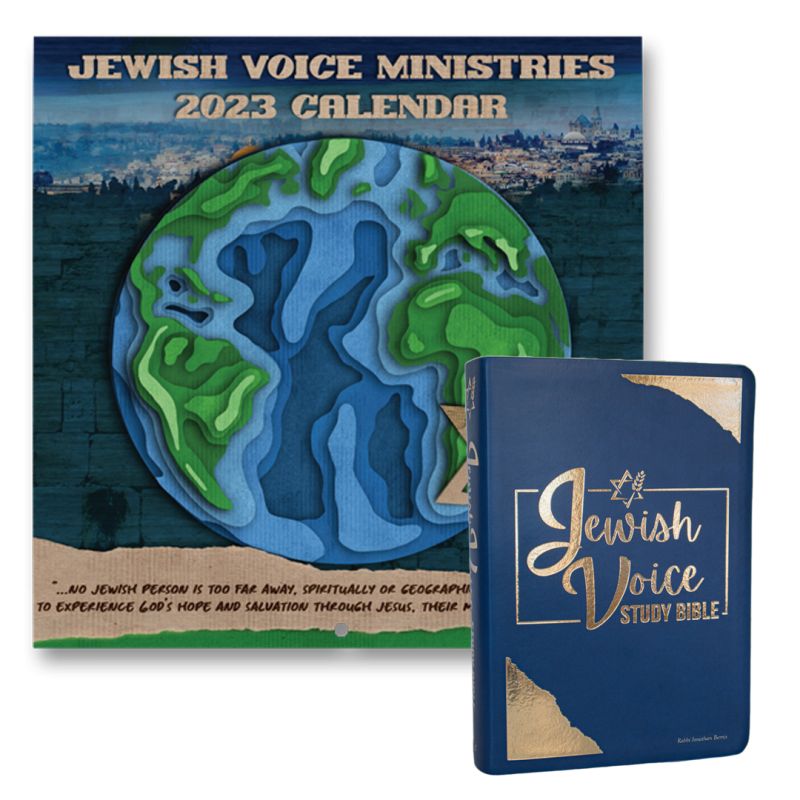 Personalized Jewish Voice Study Bible
Personalize your Jewish Voice Bible with your name imprinted on the front cover.
What makes the Jewish Voice Study Bible different from any other NIV study Bible? The Jewish Voice Study Bible is loaded with additional features for connecting you to the "Jewishness of faith in Jesus, the very roots of your faith. Special features include:
A personal Introduction from Jonathan Bernis, President and CEO of Jewish Voice Ministries International

A weekly Scripture reading schedule, including Parasha (Torah portion), Haftorah (Prophets and Writings) and New Testament selections

Fascinating information about the "Lost Tribes of Israel"

An insightful overview of biblical feasts and Jewish holidays

An article revealing Israel's importance in God's plans for the world

A Scripture-led guide to praying for Israel

A biblical perspective of the quest for peace in the Middle East

How to use the Old Testament when sharing the Gospel with a Jewish friend

A helpful list of Messianic prophecies and their fulfilments

Tips and Scriptures to help you share Jesus with others

Guidance for accepting Jesus as the Messiah
You'll also learn a little more about Jewish Voice Ministries, our history, mission and vision.
Plus, the Jewish Voice Study Bible gives you some amazing tools for learning about Bible times, interpretation and context that bring the Scriptures to life. Study features include:
Hebrew and Greek word studies expound on original meanings, with the English and transliterated words

Day in the Life articles offer a glimpse of what life was like in Bible times

Bible book introductions provide backgrounds, dates, themes and outlines to help you understand the structure and context of each book

Full-color maps photos, charts and illustrations help the Bible come alive

Page notes offer valuable context from rabbis, scholars and church fathers and mothers

Articles provide more in-depth knowledge about various topics

The Life in the Diaspora article describes what Jewish life was like outside Israel
The Jewish Voice Study Bible has a blue leatherette cover with gold lettering to match gold-gilded pages. It is approximately 6.5" W x 9.5" H x 2" D.
2023 Jewish Voice Wall Calendar
Travel around the world with Jewish Voice in 2023 as you visit the places where you and others have helped us reach Jewish people with the Gospel over the past 50 years. This 12-month calendar features beautiful photographs of the people and places helped by your support. Calendar pages identify Jewish holidays as well as those for the U.S., Canada, U.K., and Israel. You'll also find the corresponding Hebrew months, information about the Jewish holidays and an overview of JVMI's vision.